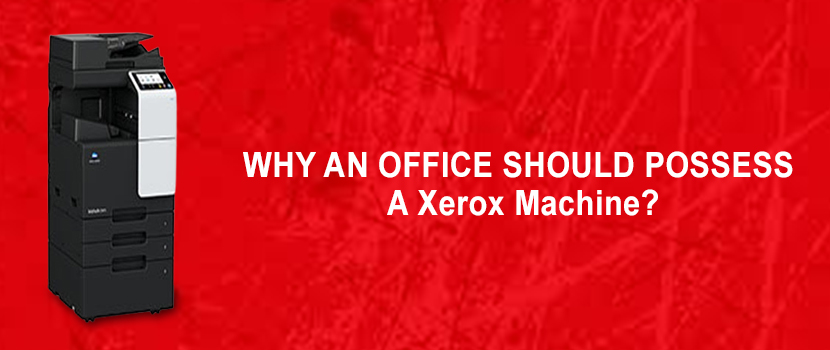 For a contemporary office setup, a xerox copier is a necessity. A xerox copier is both efficient and fast when it comes to photocopying purposes. Both small and large enterprises get immense benefits from photocopier devices notably. During extremely busy hours, a xerox copier can save your business from doing all the official painting work efficiently. Even, many large companies have more than one xerox copier in the same setup.
Most people think that the xerox copier is extremely expensive, but that is not true at all. You may be surprised to know that the xerox printer is much cost-effective. Xerox copier is nothing but a device that is used extensively to photocopy printed documents. You can buy xerox machines from any well-known Xerox machine supplier in Delhi. A xerox machine photocopies a document either on plastic film or paper.
A xerox copier has gone through different changes and modifications. The latest xerox copiers now use toner and are similar to laser printers. Below are some notable reasons why every small or large business should keep a xerox printer. These points can depict how useful a xerox printer can be for your business.
Fast Printing and Copying
The first benefit of using a xerox machine is its fast printing and copying capacity. A xerox machine can print any document with immense ease within a very short period. Any office requires to produce numerous photocopies of a document in a very short time. In such situations, the xerox machine is the only solution.
Xerox machines are very easy to use and they can produce multiple photocopies at a single time. Xerox machines can make both sides photocopies of any flaws. Contemporary versions of xerox machines can scan and fax documents so that they can be sent to different countries via email. Xerox machines have even laser printing capacities which can print paper using laser technology.
With the help of xerox machines, you can create a more fruitful ambience. So during busy office hours, a xerox machine can help you to do work more conveniently. You can buy xerox machines from any well-known Xerox machine supplier in Delhi
Money-Saving
An office is a place which faces numerous workforce from morning to evening. In such contact, using appropriate machinery is necessary. Xerox is undoubtedly one among them. Xerox is a device that can generate multiple photocopies of a single document effortlessly. Making photocopies with a xerox machine requires less electricity usage which can ultimately save the overall cost of your business.
Increase Productivity
Utilizing a xerox machine can increase the productivity of any office setup. But how? A xerox machine can make 50 photocopies of a single document in a minute. So all the office printing chores can be conducted efficiently without wasting time. It can save time which can be used to perform other official works. So it overall increases the productivity of an office.
So these are some of the major reasons that depict why an office setup should have a xerox machine. Those days are gone when business farms outsource their printing work through third parties. Irrespective of volumes, demand and time, xerox machines can perform any work effortlessly.